Renault Wins The Autotrader Digital Initiative Of The Year 2017 Behind The Scenes
Over the past 3 years we have captured over 50 cars and commercial vehicles for well-known brands such as Renault, Nissan & Dacia.
Back in 2015 we won the competitive tender for an exciting project proposed by Renault to create interactive virtual tours showcasing both the interior and exterior of the most popular models in the car manufacturers vehicle line up. Firstly, we scoured the country for a specialist "drive in" photography studio (finally found one in Manchester) and hired a computer-controlled turntable revolve (the kind used in theatres) capable of accurately rotating vehicles down to a single degree. The turntable enabled us to capture external photographs of vehicles for the smooth "ObjectVR" element of the project.
One of the most difficult elements of capturing high-resolution, immersive panoramas of vehicle interiors is the tight space inside the cabin. This requires specialist panoramic camera equipment, workflow and 12+ years' experience!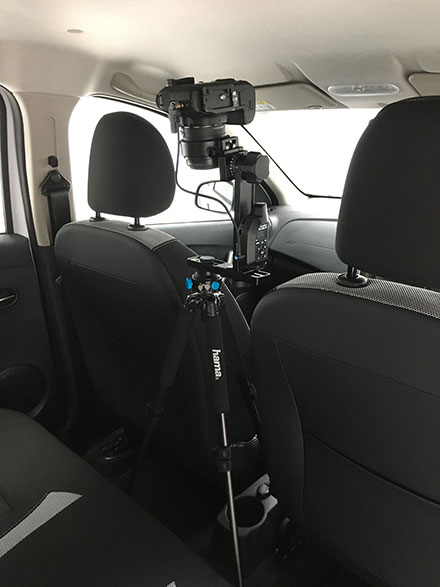 The first shoot, back in 2015, involved 24 vehicles over the Renault, Nissan and Dacia ranges. During the 4-day shoot, we took over 6,000 RAW images (totalling c.34Gb of captured data!).
Once processed, 2,000 high-resolution photographs had to be "clipped" (have the studio background digitally removed) by hand – a very time-consuming and skilled process. CGi shadows were also added to give the cars a more natural look. Finally, the photographs were coded together into the bespoke GUI (Graphic User Interface) which allows the viewer to rotate the vehicle exterior, take a look inside and even click on annotated text boxes to find out more information about key features such as the Nissan GT-R's large grill size to allow more cooling to key components, or the Renault Koleos' all 4 x 4 transmission mode.
We've been recommissioned every year since to shoot more vehicles as new models have been released or old ones have had a facelift.
In 2017, Renault won the prestigious Autotrader "Digital Initiative of the Year" award for the interactive 3D car experience – a real "pat on the back" for all our hard work!
To see our full portfolio of automotive interactive vehicle tours please visit http://www.360imagery.co.uk/portfolio-category/automotive/
360 imagery are one of the leading virtual tour providers in the UK. We'd love to hear from you and chat about thoughts you may have for your own project, however big or small. Just give Stuart a call on 0845 8726442, or visit us at www.360imagery.co.uk